As an Adobe Illustrator user, you're probably aware that in the Attributes panel you can add notes to selected art objects. That's a useful feature, but what do you do if you have many art objects in an illustration and you later need to find objects with notes? Especially art with a specific note?
The free SelectMenu plugin for Adobe Illustrator has been updated to address just that. In the menu Select > Object > Art with Notes… you'll be presented with this dialog.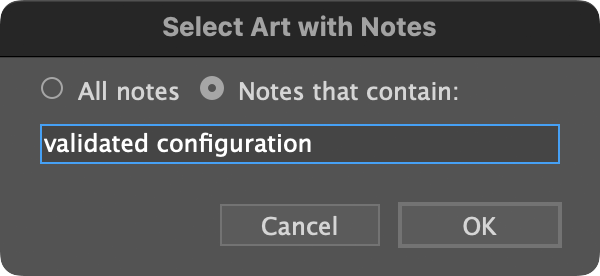 You can choose to select all art with notes or only art whose notes contain certain phrases. The search matches notes regardless of capitalization.
You can download it here for Adobe Illustrator CC 2019 through 2023, for Windows or Mac (Intel, or Apple silicon on 2022-23). Documentation on all supported art types and attributes are available online, and through a Documentation button in the plugin's AboutBox. It's entirely FREE!