AxoTools now includes a new Tangent Line tool.

To use it, move your cursor over a path near the point you want the tangent line to begin. You'll see a guide line appear showing the tangent angle. Click on the path and drag a line, which will be constrained tangent to the path. If you press Alt or Option, the tangent point will be adjusted, if possible, to align with your cursor. If you drag to another path, the tool will draw concentric rings when it's near a tangent point there. For best results, find the spot where the rings collapse into a solid blue ball.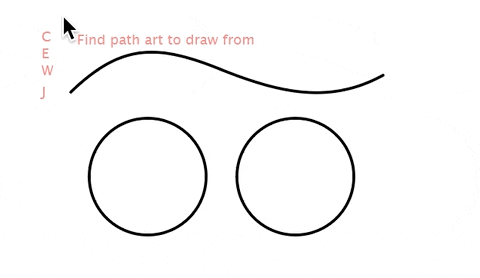 If your Draw Settings have checked "Automatically concatenate lines" then paths at both the start and end points will be cut and concatenated (joined). While dragging, you can press the keys "J" to toggle line concatenation or "W" to automatically assign stroke widths to path remnants.
The preferences includes a new item for "Curve tangent precision" which will affect both the Tangent Line tool and the extruding process for curve fitting. The default value of 0.1 will probably work fine for most or all of your work, but you can adjust it as high as 1 for faster performance or as fine as 0.001 for the most precision.
I've actually wanted a tool like this for my own work since the 90s, so it's a thrill to be able to finally offer it to other AxoTools users. The added tool is part of a free update, available for
download
now.
I hope you find it useful!