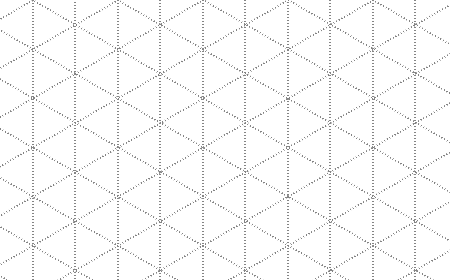 An isometric grid is one of the most commonly asked-for features in AxoTools, as well as a frequent topic on the Adobe Illustrator user forum. It would be really nice if Adobe Illustrator's Perspective Grid presets included Isometric, but that's not an option right now. In the meantime, there are some easy alternatives.
If you're lucky enough to have Hot Door's CADtools, an axonometric grid tool is already built in.
For the rest of us, just do a simple internet search, you'll probably come up with a gazillion links showing how to make your own. For example, there's this short tutorial by envatotuts+ on "How to Create an Isometric Grid in Less Than 2 Minutes." Essentially, you create a rectangular grid with Illustrator's built-in Rectangular Grid tool, then project it to isometric using any of several methods.
But it gets even easier! Your internet search results will likely include many Adobe Illustrator documents with an isometric grid already built. Just download it and save it as a template to use any time you need it!
So, considering how isometric grids are so easily and readily available, it's not likely to be added to AxoTools any time soon. Instead, you can expect new features that are really new.