Measuring and then entering distances and angles can be a lot of busywork, which AxoTools Measure tool can help streamline. Just click and drag with the Measure tool. These values are entered into the AxoTools Information panel as measured on your artboard in orthographic projection, as well as the three axonometric planes of your current document projection, plus the depth axis of any currently-defined auxiliary projection.
In addition, many of the text fields in AxoTools panels have shortcuts to import values from that panel. For example, you can drag the tool along an edge of an extrude art object to measure its length and angle. Then in the Extrude panel, double-click the Distance and Angle field labels to automatically enter the last-measured values, then simply click the Extrude button. It's so fast and easy, it almost feels like we're cheating!

The double-click trick also works for the Projection panel's X and Z axis fields and the Transformation panel's Extrude distance field. To auto-enter values into the Transformation's Move/Rotate field, just type an "a" for angle or "d" for distance as appropriate for your current operation. In the transformation panel's two fields, you can also type "=" to toggle the value between positive and negative.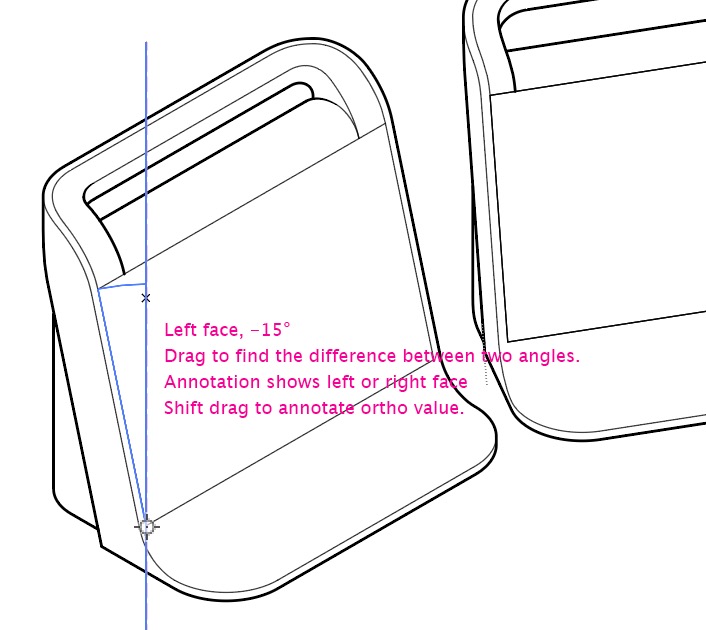 You may want to measure the difference between two angles on an axonometric drawing. Using Illustrator's built-in Measure tool, you would measure one angle, write down the result, measure another angle, write down that result, then do the math to find the difference, and it would still only be accurate for the flattened view. AxoTools' Measure tool can work as an axonometric protractor — just click on an anchor point, then drag between two points. You'll see the corresponding angle from your axonometric plane.
Now you can also now do simple math operations in many of AxoTools' panels' fields. For example, you can enter ".25 in + 2mm" and the Extrude panel will calculate the equivalent distance in your current document ruler units (e.g., 23.6693 pt). You can also do math on angles, such as "90 – 32.48" for "57.52°." Division is done with a "/" character and multiplication with a "*" character.
You can download AxoTools and try it out with 1,000 trial operations. It's on sale for 1/3 off through May 2022, with annual subscriptions 1/2 off, starting as low as $5!