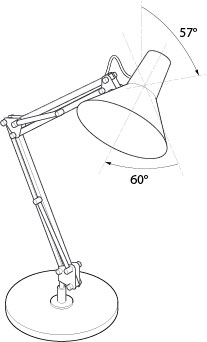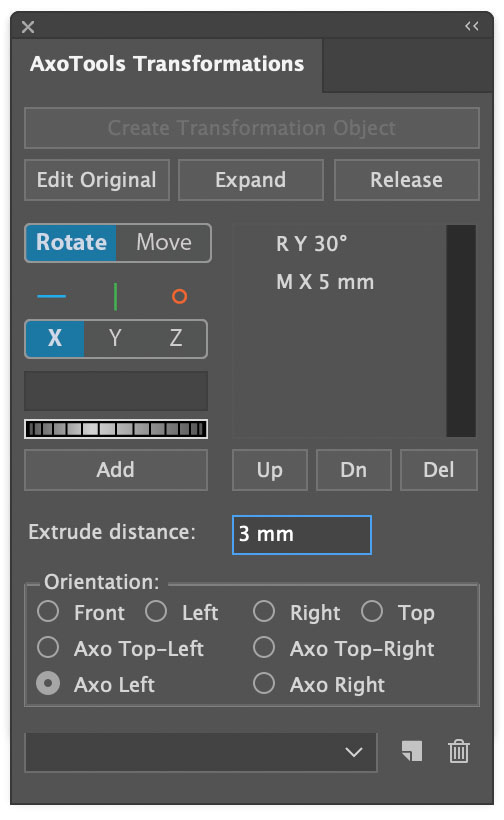 The new Transformations panel allows you to add a series of rotations and movements to art. The resulting art is then projected to any of eight orientations shown at the bottom of the panel. Items in the list can be edited and rearranged as needed. Enter a value or drag the dial control to watch your art rotate or move in real time.
When you're done, you can leave the object as-is in your illustration, click the Expand button to convert it to editable art to color and stylize it, or click the Release button to revert to the original art.
Your live Transformation object can be projected to your axonometric view, where items will appear correctly projected, with offset distances mathematically scaled to place them correctly into your illustration.
Artwork oriented to an axonometric view updates as you adjust your current projection. If, for example, you're adding a skylight or control panel that's angled 15°, you need only enter the 15° rotation and AxoTools orients it into whichever plane you need.

This is not a true 3D application, but uses time-tested mathematical formulas to orient your art to match whatever view you need, all within Adobe Illustrator. Illustrations with components that tilt, turn, swivel, and spin are now easier than ever. No more guesstimating to scale and place artwork! There's much more information at the new online documentation page.
Transformations panel documentation Download AxoTools
Download AxoTools and try it out. It includes 500 free trial uses that you can use any time you need. Many more new features are also in development.