How often have you placed a pattern into a path, but needed to align the pattern with other art, but without moving the path? With a little guesswork and patience, it can be done, but there ought to be a simpler, more straightforward way. And there is!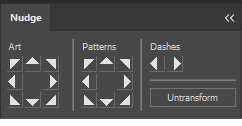 When I draw a floor plan and  place a pattern of a grid drawn at a given architectural scale behind it, I want the upper-left corner to align with the grid. How useful would a grid be, really, if it were simply plopped randomly behind the art? To use the plugin, I select the path with the pattern fill and click on one of the eight directional triangles to move the pattern left, right, up, down, or diagonally by one point. If I press the Command/Control key, the movement is divided in half, or the Option/Alt key will divide the moment by four. On a Mac, pressing the Control key while clicking will divide the distance by eight, and holding combinations of these keys will combine the effects so that I can make adjustments of 1/64 of a point. Pressing the shift key, too, will make each key work as a multiplier to move the pattern farther with each click.
Have you ever drawn a dashed line diverging from another? With the Dashes adjustments, you can precisely slide the dashes on a path forward or back along a path to align them as needed.
With the CC release, you can also select art objects and move them in small increments. I find this helpful for things like fine-tuning the placement of city names on maps or other situations where snapping isn't helpful.
After working with pattern adjustments I found that patterns from existing art may have been scaled, rotated, or sheared, and to regain control of the pattern, there's an Untransform button. Besides restoring a pattern to its original proportions, it also works on images (making them easy to export with the highest quality possible) and on other placed images such as EPS.
Please feel free to download it and try it out. In demo mode, you can take your time because the trial period doesn't expire, but is instead based on a thousand test clicks. I'm sure you'll find it a useful addition to your Illustrator workflow. As always I welcome your comments, questions, or suggestions.