Description
Square Up plugin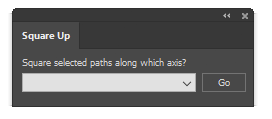 This plugin will convert a selected path's anchor points to corner points, and adjust the path segments so that lines within 20 degrees of perpendicular will be made square to each other. Use keyboard shortcuts to make quick work of an otherwise tedious task when cleaning up technical drawings, schematics, and diagrams.
Paths can be squared in several ways:
Vertical and horizontal.
Along the current constrain angle.
Along the dominant axis within the selection.
All control handles retracted into the anchor points for straight lines with corner points.
Requires Adobe Illustrator CS6 – 2021 for Mac or Windows .