Description
CONCATENATE
This plugin filter for Adobe Illustrator connects two or more selected paths into one continuous path. You choose how close the endpoints must be to combine the paths, how close to tangent the endpoints must be, and whether to average the endpoints and control handles. It's especially useful for cleaning up CAD drawings, GIS map data, and other files that have been converted to Adobe Illustrator. It's especially useful for tasks like connecting and filling state/country borders in vector map files.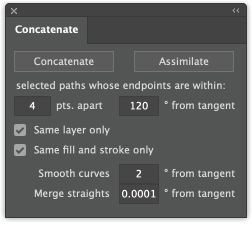 The plugin also includes Assimilate, which will search out unselected paths that are within the distance and angle you specify, and concatenate them to a selected path.
Concatenate and Assimilate items are added to the Object > Paths menu giving two methods of calling the plugin, plus the option to assign a custom keyboard shortcut.
This plugin is included in the Productivity Pack bundle. Requires Adobe Illustrator CS6 through 2022 for either Mac or Windows.
Notarized for macOS with Illustrator 2019 or higher.