---

Utility Applications
EPS Extractor
Freeware: no payment necessary!
Extracts both placed EPS and embedded raster objects (not compatible with Illustrator 9 or above). Illustrator 10 users can use the "Untransform raster object" script to export embedded images.
Version 1.2
Download EPS Extractor StuffIt archive

Tired of seeing this message when you open an Illustrator file? Especially when you don't have the missing art? So was I. That's why I wrote EPS Extractor. Open an Adobe Illustrator EPS file that has placed EPS art within it and Extractor will list the files included within it.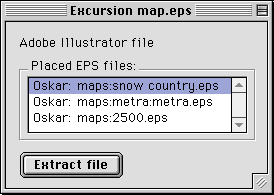 Extract an EPS file from an Illustrator file.
Extract embedded raster objects as TIFF files.
Open files by drag-and-drop.
Save Photoshop and Illustrator files with their respective creator types/icons so you can open them with a double-click.
Extract EPS in the background, so you can do other things while it works.
Extract EPS and raster art in batch mode.
Supports MacOS 8.5 Navigation Services
This program does not have the ability to recreate an EPS preview, as this information is not available within the Illustrator file. This version requires Mac OS 8.6 or later, including Mac OS X.
Illustrator TrueType/PostScript Converter
Download Illustrator TrueType/PostScript Converter StuffIt archive
Freeware: no payment necessary! (not compatible with Illustrator 9)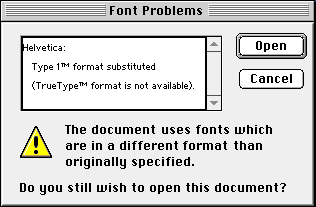 Tired of seeing this message when you open an Adobe Illustrator document? This utility will open an Adobe Illustrator file and change all TrueType font references to PostScript, or from PS to TT. The conversion process will run in the background, so you can do other things while it works. If you press the cancel button on the progress window, your original file will be restored.

This version is fat, supporting both 68K and PowerPC.
Please send me your comments and bug reports!
---
Illustrator's Assistant
version 1.2.7
Freeware: no payment necessary!
Download Illustrator's Assistant StuffIt archive
StuffIt 3.0 archive. Utility program that prints as a reference page for your art file any EPS file or an Adobe Illustrator file saved without a header (through version 5.5, pretty much through version 8.0--not compatible with Adobe Illustrator 9.0) and optionally adds in the upper corners information about any or all of the following:
File name
File location
Illustrator's name
Illustrator's organization
Date Created
Date Modified
Art size
Software version
Compatibility level
Preview type
File's icon
File type (e.g., EPSF)
File creator (e.g., ART5)
Custom colors
Fonts used
Illustrator's Assistant will scale your art to fit the page, print the scale the art was reduced or (optionally) enlarged, optionally add a bounding box, and optionally download PostScript fonts to your PostScript printer.
---
Adobe Illustrator Clipart is also available for any platform (free!).