Description
ServerLock is a plug-in for Adobe Illustrator that warns a user when opening a file on a shared server that's already being edited by another user. The plugin must be installed and enabled on the computer of the person editing files in order to create a small lock file (*.ailk) while in use, and on the computers of other users to recognize the lock file and respond accordingly. This is similar to methods used by high-end publishing software such as Adobe InDesign and workstation-based systems.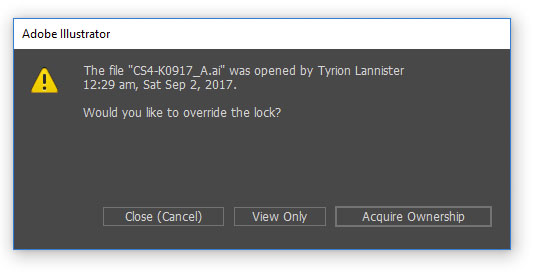 When opening a file that's in use by someone else, a user will be presented with a dialog offering three choices:
Cancel opening the file
Open the file for viewing or copying (saving is disabled in this mode*)
Override the lock and acquire ownership of the file
*Please note that read-only mode is not available in Adobe Illustrator, and that the plugin's save-prevention methods may not work in every possible situation. It should be considered an assist, not a substitute for caution.
The plugin can be disabled by selecting the menu item File > Disable ServerLock. It can be enabled again in the same way, but only when no documents are open.
ServerLock currently requires Adobe Illustrator CS6 – CC. To install the plugin, just drop it into Adobe Illustrator's "Plug-ins" folder.