NotePod
Personal note manager and reminder
Version 1.1
Drag text and files into NotePod's list window to create notes.
Organize notes hierarchically within folders.
Tag notes as action (to-do) items.
Assign dates and times to notes.
Set timed notes to act as reminders.
Available for Mac OS X...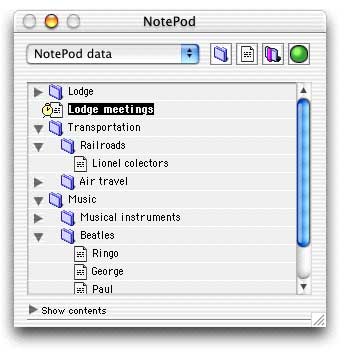 ... as well as Mac OS 8/9.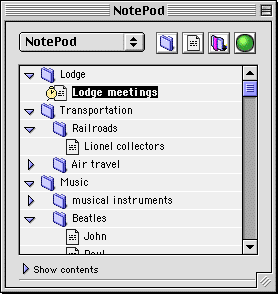 NotePod displays notes in a hierarchical list.
Double-click the note in the NotePod list to edit it. Drag a text file or text from another application (such as Eudora email) into the NotePod window to create a new note.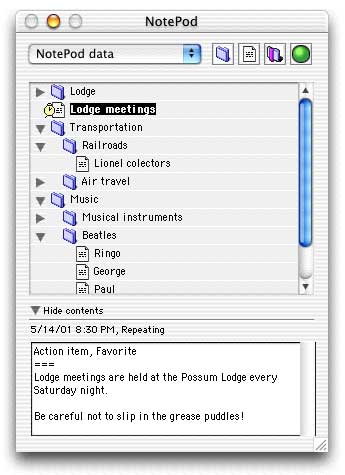 Click the "Show contents" disclosure triangle to show the contents of the selected note, as well as attributes such as reminder and time settings.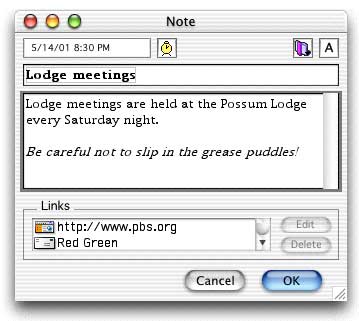 Drag a URL address into the Links list to create a link to that Web site. Double-click the item in the URL and your default browser will take you there. Drag an email address into the Links list box to create a link that will create a new mail message in your default email program. Drag a text file, folder, or another note into the list for a double-clickable shortcut to that item. Click the date button to create a date as shown below.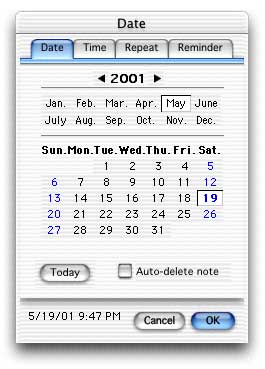 Dates and times can be set as informational only, as a date reminder, date/time reminder, or a date to automatically delete the note. Dates can be set to repeat.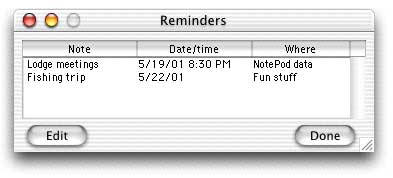 When a time/date reminder comes due, a reminder will pop up.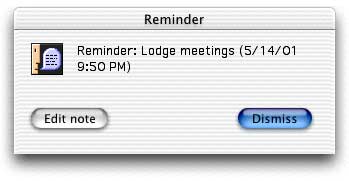 When items are set as action items, NotePod can serve as a "To-do" list.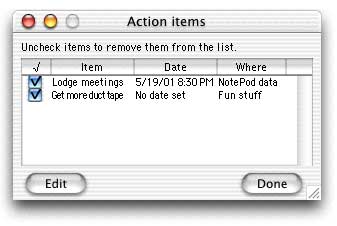 Want a look at appointments you've got lined up? Get the whole list from a menu selection, or have today's reminders pop up first thing every morning.

Click the icon in the upper right corner of the main screen and NotePod will collapse to a small global floating palette. Text and files can then be dragged into the palette to create notes while you continue working.
For instructions on using the program, please refer to the documentation file included with the download as well as in the Help window.
Shareware: $15.
Mac is a trademark of Apple Computer, Inc., registered in the U.S. and other countries. The "Built for Mac OS X" graphic is a trademark of Apple Computer, Inc, used under license.
Register online
Now you can register your software online via Kagi's secure order site!
---