Product Updates
Yay!
CC 2018 updates for both Mac and Windows are now available.
All Graffix plugins have something in common, whether it's a module of code to add an About Box, handle preferences, or other functions. All of these shared libraries have had improvements made to them, making the plugins more stable, more reliable, and with better memory management. Every plugin available for CS6, CC, CC 2014, CC 2015, CC 2015.3, and CC 2017 (all 132 variations) now has an update available They're recommended for all users.
And once you've downloaded those updates, you may notice that the read-me doc has been updated, as well, with clearer instructions on where to place the plugin. There's also a link to the support area of this web site, which has been updated with an FAQ section and will see more frequent and meaningful help topics.
Many thanks to all users who have shared their questions, comments, and observations, which led to these improvements.
All the best,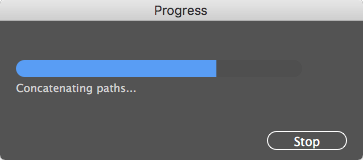 We've come to pretty much take for granted how quickly plugins work, regardless of the complexity of the calculations and manipulations they may do. Concatenate is designed to handle everyday small jobs, but also take on tasks that simply aren't practical otherwise. Sometimes imported files can contain many layers and a gazillion paths. Seriously, I've worked with files containing over 200 layers and over 2,000,000 objects. Yes, two million paths! I kid you not.
Pre-CS6 versions of Concatenate had a progress bar and could be cancelled if things were moving too slowly, or if you're just impatient like me. When the developers' landscape changed with CS6 and CC, there were a few things that took a while to work around, and the progress/cancel feature is now back. The progress bar is nice, but the option to cancel an operation that's taking longer than expected can be a lifesaver, like an emergency brake, escape pod, ejection seat, or special super-powers when life gets complicated.

Helpful tip no. 1: If you have a very complex file, it' probably helpful to select one area at a time to concatenate.

Helpful tip no. 2: You can simplify the assimilate process by hiding or locking layers that aren't relevant.
Concatenate 16.1.1 is recommended for all users, especially those who may forget to save before trying ludicrously reckless things. You can trust me on this…